Every experienced trader recognizes the critical role of a reliable charting platform for their technical analysis in achieving success. TradingView has emerged as one such potential aid. This platform has been gaining attention due to its impressive features, many of which are even available in its free version. In this TradingView review, we scrutinize its features and value offerings in detail to assist you in assessing whether it aligns with your specific trading needs and goals.
TradingView Review at a Glance
Essential TradingView Features You Can't Resist
Interactive Charts and Powerful Technical Analysis Tools
Without a doubt, TradingView's shining features are its comprehensive interactive charts and an expansive set of technical analysis tools. What sets the platform apart is the accessibility of many of these fantastic features, even in its free version, making high-quality charting attainable for all.
A broad range of indicators and drawing tools are at your fingertips. These include, but aren't limited to, famous indicators like Moving Averages, Bollinger Bands, and the Relative Strength Index (RSI). It also offers more niche ones, such as the Ichimoku Cloud and Median Price. These tools can be adjusted to reflect your unique trading style, ensuring a genuinely personalized experience.
Here's a peek at TradingView's interactive charts. Every feature you can find on my website is also available on TradingView. Feel free to dive in and discover more.
Beyond indicators, TradingView equips you with a suite of drawing tools. These resources allow you to add trend lines to your charts, mark support and resistance zones, and utilize other essential technical analysis methods. These tools provide insights that exceed what raw price data can deliver.
Additionally, TradingView's capability to present multiple time frames and chart types concurrently is an exceptionally innovative feature. For instance, you could examine a stock's daily chart for an overarching perspective on long-term trends while concurrently observing a 15-minute chart for detailed short-term movement insights. Regrettably, the multi-chart layout feature is only accessible to TradingView's paid users. If this function sounds beneficial, click here to try TradingView's premium membership free for 30 days, and see for yourself.
A Wide Range of Financial Instruments and Markets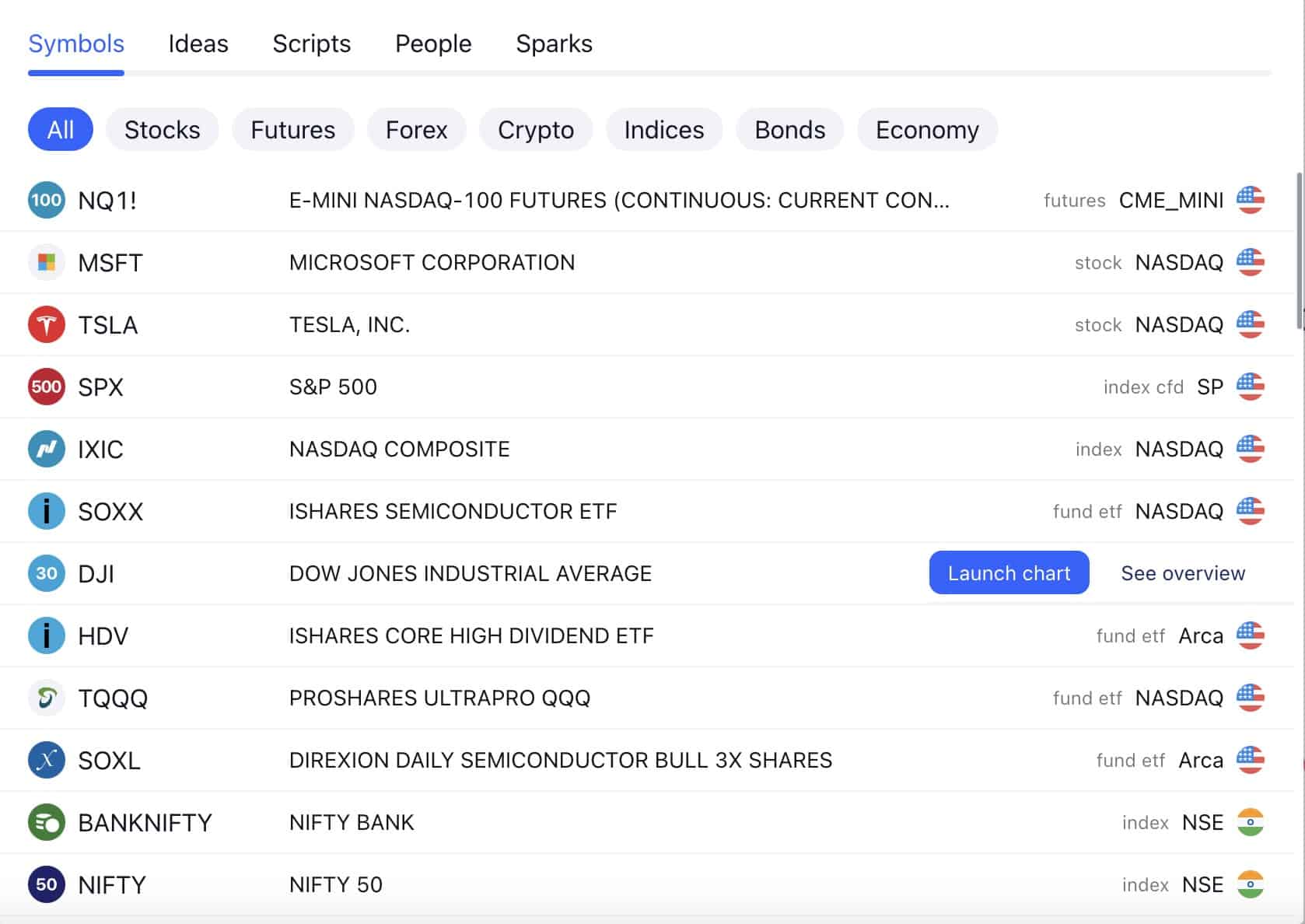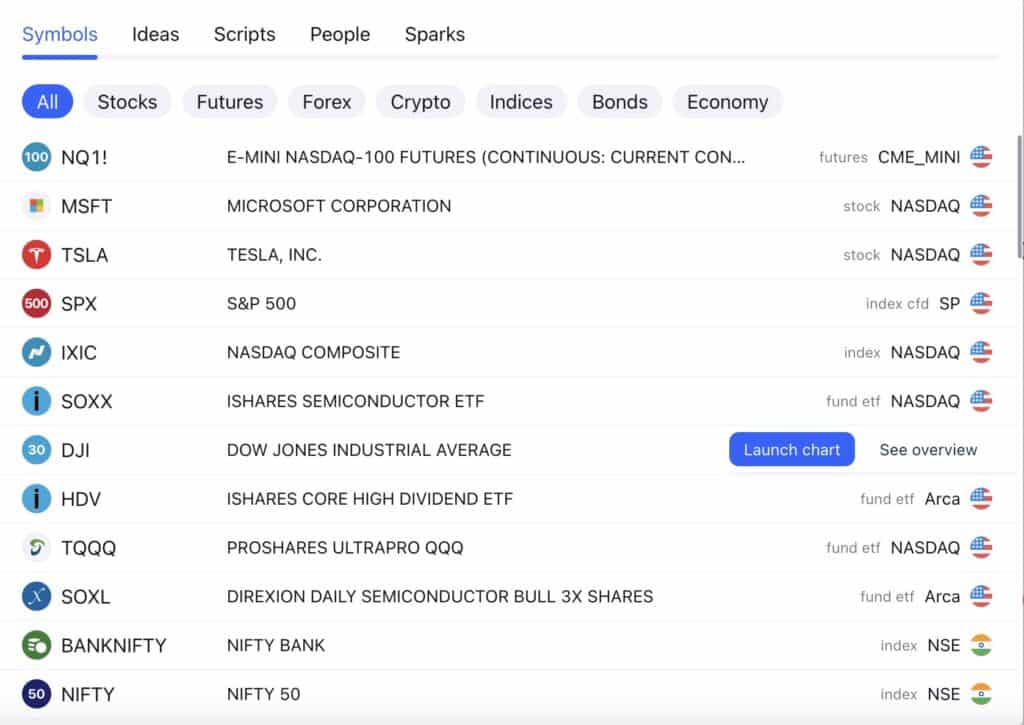 Navigating the financial markets with many trading options can often be daunting. Yet, with TradingView, researching and tracking this broad spectrum becomes significantly simpler. From traditional financial products to specialized instruments such as indices, commodities, and cryptocurrencies, TradingView provides comprehensive coverage.
The broad selection of financial instruments and markets available on TradingView is a strategic tool for portfolio diversification and risk management. By investing in a varied mix of assets, sectors, and regions, you can create a safeguard against market turbulence.
Furthermore, the plentiful choices open possibilities for crafting complex and creative trading strategies. With the vast array of assets and markets at your disposal, the potential to identify unique trading opportunities is virtually boundless.
Vibrant Trading Community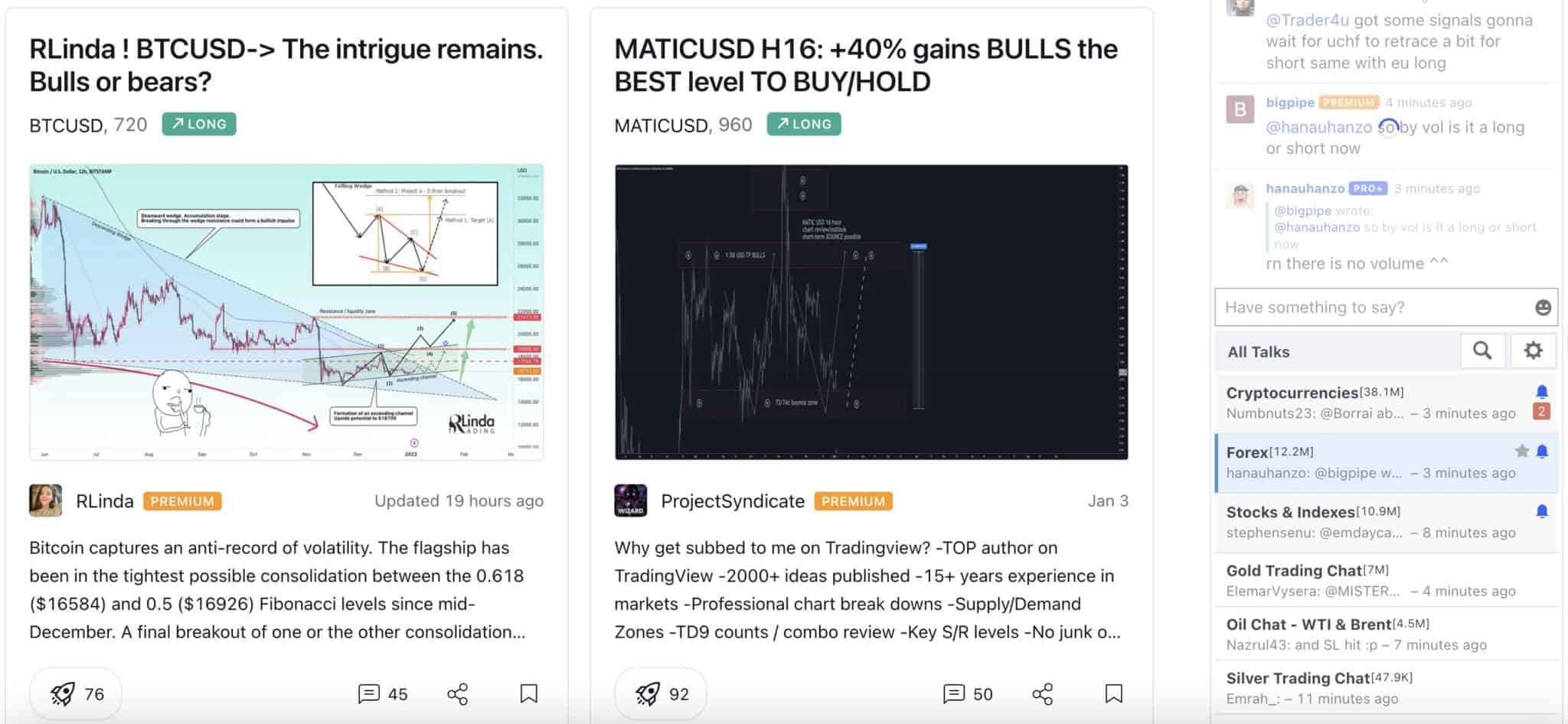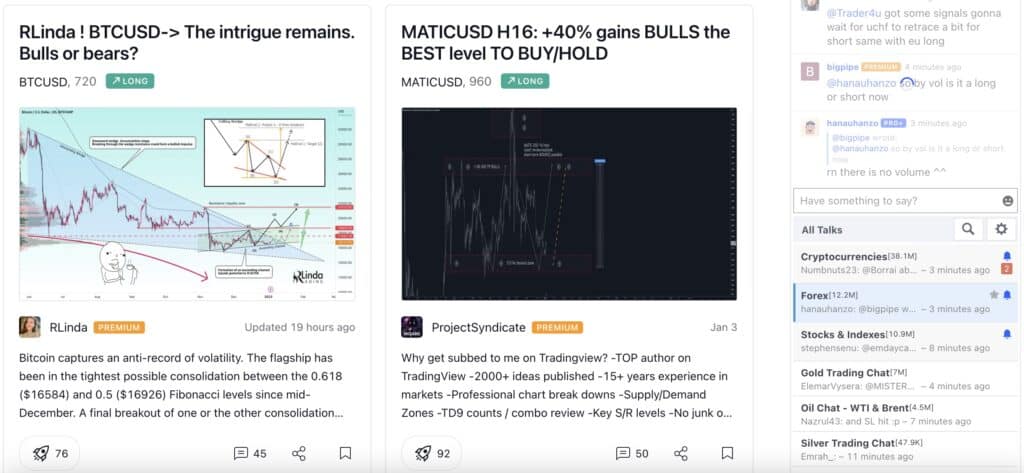 The journey of trading can often be demanding and solitary. However, with TradingView, you're never alone. The platform welcomes you into a dynamic, worldwide community where knowledge-sharing and collaboration thrive.
While self-study through books and paper trading is valuable, engaging with others significantly contributes to trading proficiency. Such interactions help refine your strategies and presumptions, accelerating your grasp of trading subtleties.
Millions of traders share their trade ideas, setups, and entry strategies on TradingView's Trade Ideas section. By enabling alerts, you can stay updated with their posts, just like following your preferred profiles on social media.
Pine Script
For innovative minds, TradingView's Pine Script can open doors to unprecedented customization and flexibility. This programming language enables you to design your own custom indicators and incorporate them directly into your charts. More importantly, you can use this advanced feature without any programming skills.
If you've obtained a script from a developer or trading service, it's simple to plug it into the Pine Script editor and activate it on your charts. This function is a boon for traders subscribed to services that frequently offer TradingView scripts. Such scripts can auto-update daily levels and other vital data points, simplifying your analysis process.
Potential Areas for Improvement in TradingView
Limited Brokerage Integration
Fundamentally, TradingView is a powerful platform for charting and market analysis. While it does partner with several brokers, such as TradeStation, OANDA, and FXCM, it does not serve as a trading platform. You may find that your favored broker isn't integrated with TradingView, constraining your ability to execute trades directly from the platform.
This situation often leads users to switch between TradingView for analysis and their brokerage platform for trade execution. Managing trading activities across two separate platforms can be somewhat taxing, especially for those who prefer operating within a single, consolidated trading environment.
Thin Fundamental Analysis
Though TradingView has many superior technical analysis tools, it's worth noting its comparatively limited resources for fundamental analysis. The platform does offer some basic fundamental data, providing a good starting point. Still, it might not meet the needs of traders or investors who heavily lean on comprehensive fundamental analysis.
The platform's lack of expert commentary and interpretation of fundamental indicators is noticeable. Unlike specialized fundamental analysis platforms, there aren't any professional evaluations or detailed analyses of the data provided.
Although the platform hosts a community of experienced traders, TradingView doesn't assure the expertise or professionalism of their comments. As such, traders should practice discernment and caution when using such shared insights for their investment decisions.
TradingView Review: Unique Features of Free vs. Premium Offerings
Multiple Chart Layouts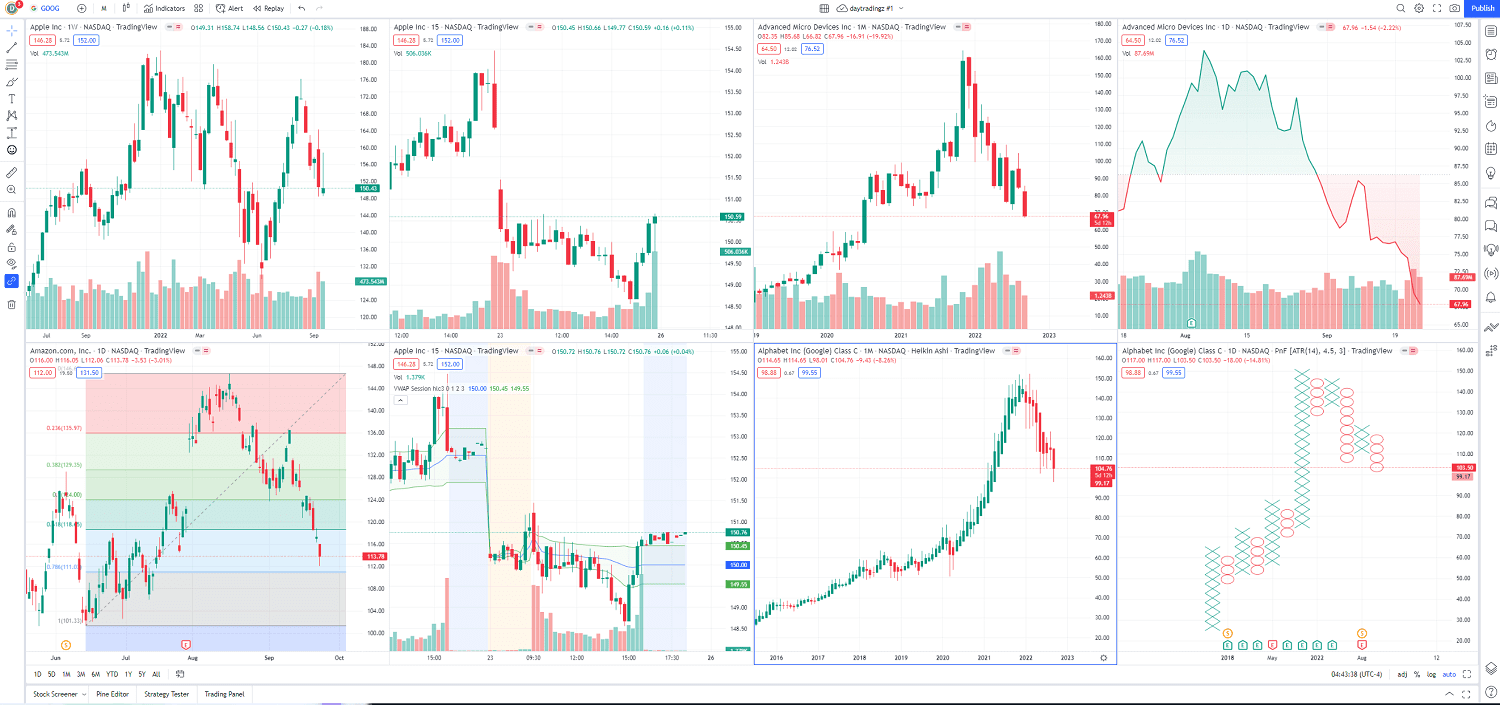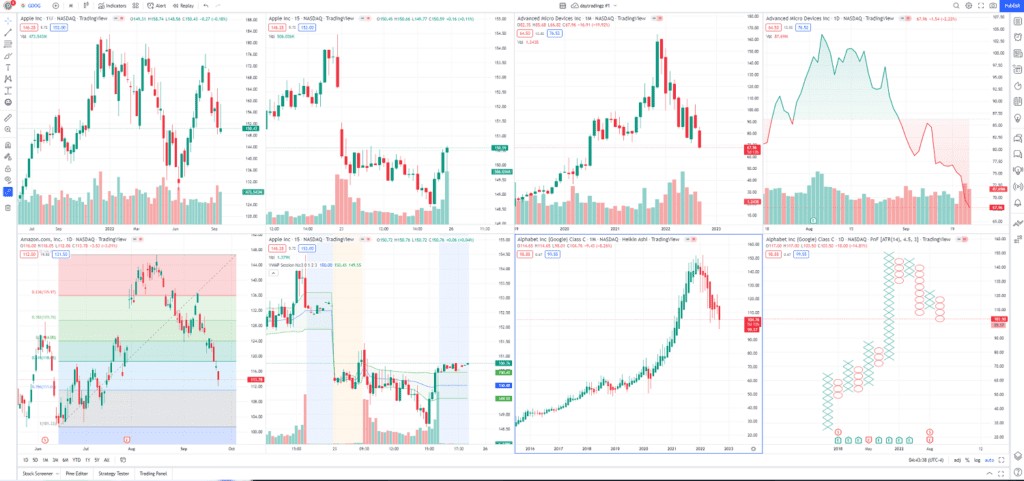 A notable benefit of a paid TradingView subscription is the option to create multiple chart layouts. This feature is vital for traders seeking an all-in-one trading workstation. Analyzing multiple assets or timeframes at once boosts productivity and streamlines your analysis process. The chart synchronization feature further enhances this convenience, reflecting changes in time intervals, drawings, symbols, and crosshairs across all your charts.
Customizable Time Intervals
TradingView offers all users a range of default timeframes, from intraday to longer terms like daily, weekly, or monthly. Yet, the ability to customize these time intervals is exclusive to the Pro, Pro+, and Premium tiers. Paid users can adjust timeframes to meet their specific needs – for example, setting intervals to 10 min, 4 h, or any other duration within or beyond the day.
Fast Data Flow
Data Flow refers to how quickly data updates on the platform. Real-time data for various financial instruments on TradingView is limited to free users. However, premium subscribers can access real-time data, allowing them to base decisions on the most current market information.
Personalized Customer Support
Navigating a complex platform like TradingView can be daunting, especially for beginners. Thankfully, the Help Center offers numerous articles, guides, and FAQs to help users. Paid subscribers can even benefit from deeper customer support, with a dedicated team providing "full individual support."
An In-depth Review of Different TradingView Plans
TradingView accommodates a broad range of user needs with its four-tier subscription model. This comprehensive TradingView review will examine each plan, assisting you in finding the best match for your trading style and needs.
The Beginner's Choice: Basic Plan
TradingView's Basic plan is a free tier geared towards newcomers or those who need basic charting features. Despite certain limitations, this plan offers a decent selection of technical analysis tools. Users can apply three indicators per chart, including one custom indicator, and create custom scripts via Pine Script. The plan also offers over 50 smart drawing tools for enhancing chart annotations.
However, Basic plan users will encounter advertisements and are limited to one chart per tab. Access to certain advanced features, such as custom time intervals, bar replays, and intraday spread charts, is restricted. Also, this tier does not include personalized customer support.
The Next Step: Pro Plan
The Pro plan from TradingView is a significant upgrade from the Basic tier. It provides additional features like two charts per layout, 10 server-side alerts, five saved chart layouts, unlimited watchlists, faster data feeds, etc. The Pro plan also includes volume profile indicators and twice the data on charts, broadening your analytical reach.
Going Further: Pro+ Plan
The Pro+ Plan goes a step beyond, offering faster customer service, more alerts, four-chart layouts, and dual device connectivity. The ability to save up to 10 chart layouts and access special chart types, such as Intraday Renko, Kagi, Line Break, and extended trading hours, make this a favorite for many advanced traders. Pro+ users can also customize charts based on their preferences.
The Full Package: Premium Plan
At the top sits TradingView's Premium plan, an all-encompassing package that provides complete access to all the platform's features and functionalities. This plan is tailored for the most demanding traders, offering first-priority customer support, eight charts per tab, unlimited saved chart layouts, and up to 400 alerts.
Users also enjoy exclusive benefits such as a badge next to their name, the ability to publish invite-only indicators and protected scripts, and the privilege to include a signature and website field.
Wrapping Up
TradingView brims with research and analysis tools crafted to refine your trading prowess. It furnishes you with a vast assortment of charts, live quotes, and recent news, all empowering you to make well-informed trading decisions.
Moreover, the availability of a free account lets you explore many of these useful tools. You can try your hand at charting practices and simulated trading before leaping real trades with your broker. Considering the depth of resources and tools provided even at the free level, TradingView is undeniably valuable for any traders who want to enhance their trading experience.
If you're considering investing in a paid plan, please note that TradingView offers a 30-day free trial for its premium features.
We also hope this TradingView review gives you a deeper understanding of their tools and services.
Happy Trading!