In today's data-driven age, the internet is a vast wellspring of knowledge, a boon for those interested in value investing. Still, it's worth noting that not all online resources hold the same value. Today, we embark on a crucial task: to identify the best value investing websites. Think of these platforms as tools in your investment kit. They are poised to evolve your investing from a game of risk into a strategic, data-guided decision-making journey.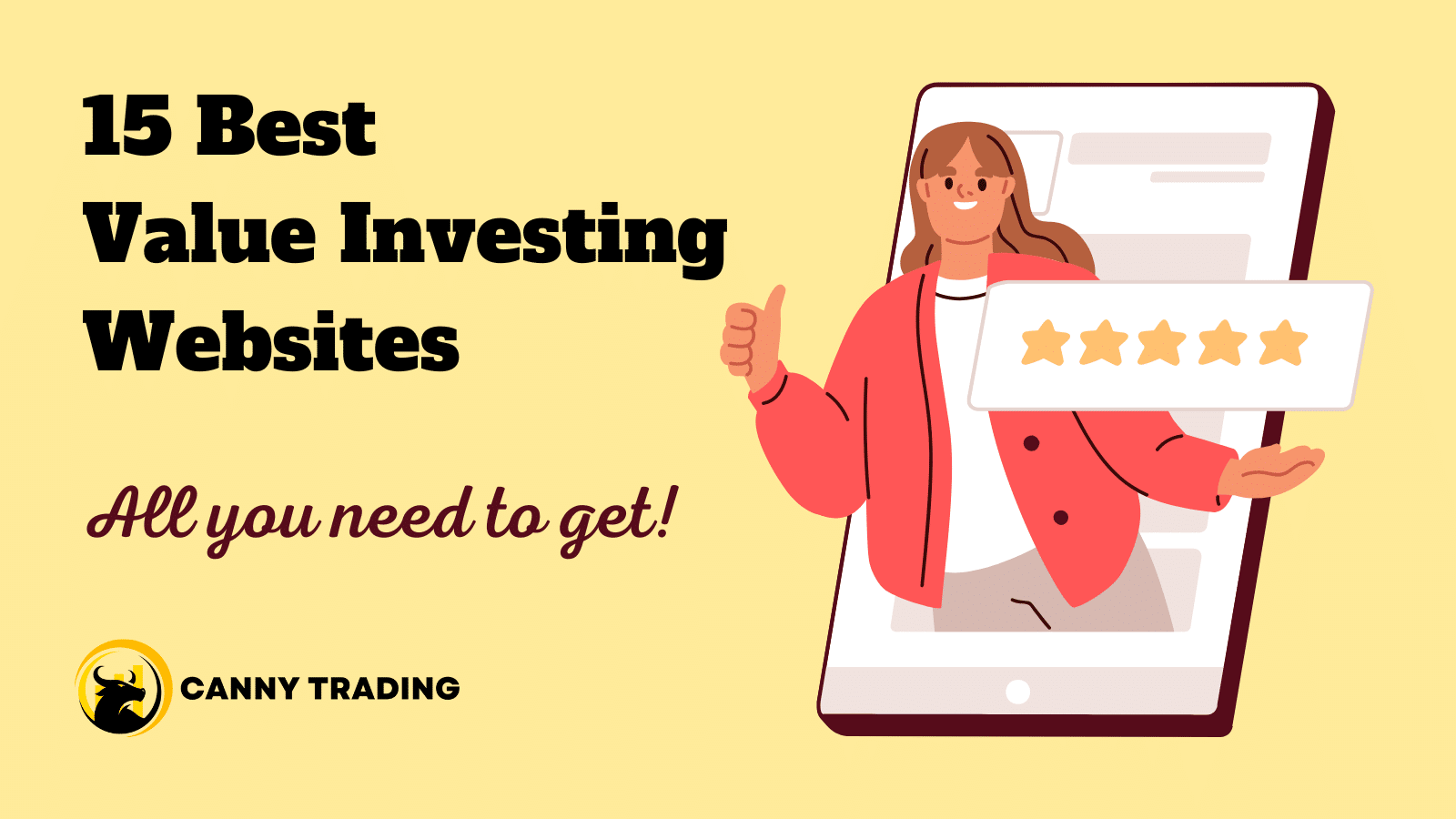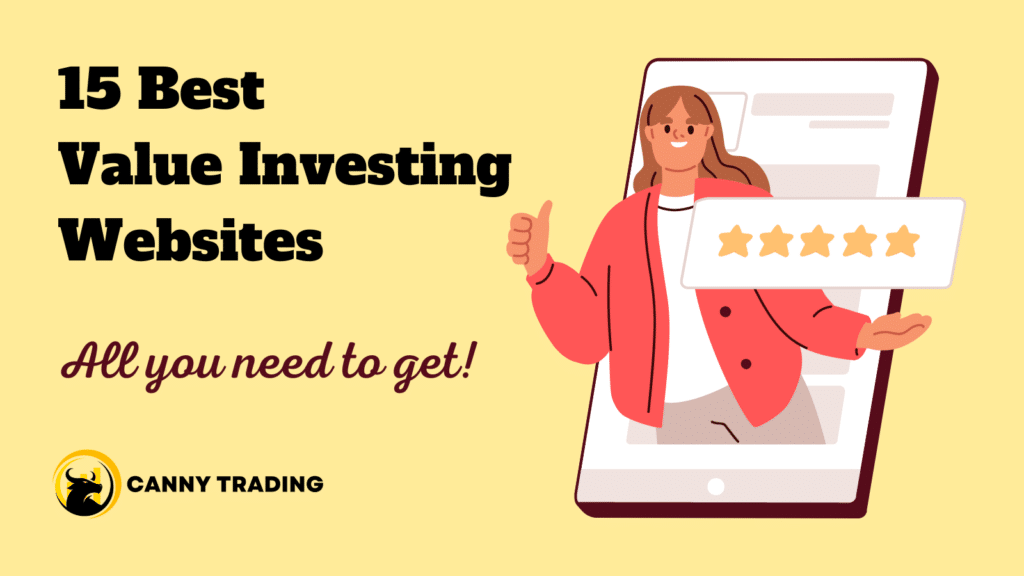 Best Value Investing Websites for a New Investor to Learn
Starting as a new investor can feel like a wild ride. It's a mix of excitement and nervousness. Value investing may seem like a tough nut to crack with its unique terms and methods. But don't worry! We've compiled a list of the best value investing websites, specially designed for beginners.
Investopedia: A Comprehensive Resource for Value Investing
Investopedia is often likened to the 'Wikipedia of the financial realm.' It offers a rich trove of knowledge on a broad range of financial concepts and investment strategies. This makes it a must-visit resource for you, whether you're a beginner or a seasoned investor.
The website offers easy-to-understand explanations of basic financial terms. It also provides detailed guides on complex strategies. In essence, Investopedia covers an impressive span of topics. The best part is, its library filled with articles, tutorials, and guides is completely free.
What sets Investopedia apart isn't just the theory it teaches—it's also the practice it offers. A unique feature of the website is its free stock market simulator. This tool allows you to try your hand at trading stocks and ETFs without any real-world risk. By using this feature, you can combine your theoretical knowledge with practical experience.
Investopedia has also dipped its toes into the dynamic world of digital assets. It provides a dedicated cryptocurrency simulator for its users. This tool lets you trade virtual cryptocurrencies around the clock, mirroring the real crypto market's non-stop action. Therefore, Investopedia isn't just a place to learn about traditional investing. It's also a learning platform for the rapidly growing field of cryptocurrencies.
By offering both theoretical knowledge and practical experience, Investopedia solidifies its position as a comprehensive resource for value investing.
Wall Street Survivor: Learning by Doing
Wall Street Survivor takes a hands-on approach to teaching about finances. It presents a variety of easy-to-understand courses. These courses present complicated financial concepts in clear, simple language. With Wall Street Survivor, you can learn everything from the basics of the stock market to how to handle your personal finances.
Moreover, Wall Street Survivor gives you access to valuable stock ideas. This feature allows you to discover possible investment opportunities. It's a handy tool that can help you sharpen your skills in picking stocks. It also assists you in spotting investments that show promise.
Wall Street Survivor is also a community. You can take part in the stock market game on your own or in a group. This creates a sense of team spirit. The platform offers interactive chat spaces and forums as well. Here, you can ask experts your burning questions, exchange ideas, and learn from others.
To keep you in the loop, Wall Street Survivor provides daily stock news. This helps you stay updated on the latest market trends. So, with its user-friendly courses, stock ideas, interactive community, and daily news updates, Wall Street Survivor offers a comprehensive approach to your financial education.
Khan Academy: A Full Learning Journey
Khan Academy aims to offer free, top-notch education to anyone, anywhere. Salman Khan, the founder, ensured the platform provides a vast range of learning resources. These include video lessons, written materials, and hands-on exercises. The platform's diverse educational content benefits everyone from school-age students to adult learners.
Getting started with Khan Academy is easy. You just need to sign up for a free account. Then, you can browse through the many courses available and save the ones you find interesting. It also offers a wealth of lessons designed for adult learners. You'll find a strong focus on personal finance and investing.
The financial education section of Khan Academy covers vital topics. These include savings and budgeting, understanding interest and debt, and planning for investments and retirement. It even explains the complexities of taxes. These courses aim to equip learners with the knowledge they need to make smart financial decisions. Whether you're setting up a budget for the month, planning your retirement, or deciding whether to buy or lease a car, Khan Academy has you covered.
ValueInvesting.io: A Dedicated Platform for Value Investors
ValueInvesting.io seeks to provide you with the tools and knowledge you need to spot potential investment opportunities. These opportunities are based on what is known as intrinsic value. To do this, the platform uses a variety of valuation models. These include Discounted Cash Flows (DCF), Earnings Power Value (EPV), and Multiples Comparison. These models are carefully crafted. They use all publicly available information, contributing to their exceptional accuracy.
One feature that makes ValueInvesting.io stand out is its interactive nature. The platform gives you the freedom to tweak key assumptions in the valuation models directly on the website. This feature is particularly helpful for you as an investor. You can adjust the models based on your own views or explore how specific changes might impact a company's valuation. For instance, you can see the effect of a shift in the terminal growth rate.
ValueInvesting.io also offers a range of other tools designed to assist in your stock research. One such tool is a stock screener. This tool allows you to filter companies based on specific criteria. Another useful tool is the watchlist. You can use this tool to keep tabs on potential investment opportunities. Additionally, the platform's sections on investment ideas provide you with more insights and inspiration for value investing.
Reddit's r/investing: A Meeting Place for Ideas
If you're looking for an engaging and diverse platform to discuss value investing, consider Reddit's r/investing community. This interactive community with a broad membership base provides a unique space to explore various aspects of investing.
r/investing is a lively community where investors of all types gather. They share insights, discuss the latest market trends, and debate different investment strategies. The forum's strength is its diversity. Each thread is a mosaic of different viewpoints, giving you a well-rounded perspective on value investing.
r/investing also offers a treasure trove of resources. Members often share useful materials such as books, research papers, and podcasts. These materials can boost your understanding of value investing. Whether you're a beginner or a seasoned investor, you'll always find something new to learn in this active community.
However, like with any online community, being careful is essential. While the platform is filled with insights, users should always double-check the information.
Best Value Investing Websites for Stock and Market News
Keeping up with stock and market news is vital in the fast-moving world of value investing. You can forecast market changes by watching critical economic, political, and business trends. You can also spot promising opportunities for value investing. Let's look at some top websites that offer in-depth and up-to-date stock and market news.
Bloomberg: Your Global Financial Update
Bloomberg is a well-respected name in the world of financial information. Based in New York City, this company offers a unique mix of news, data, and tools for value investors like you, regardless of your investment stage. As a privately held company, Bloomberg has a global reach, providing top-notch financial and media services used by investors across the globe.
One of Bloomberg's key strengths is its ability to offer wide-ranging investment information. It has a variety of analytical tools and software that produce detailed trading data. These cater to both individual investors like you and large institutions. Bloomberg provides services that span from electronic trading and portfolio management to research, analysis, and sales. With these services, you have a flexible toolkit that can be adjusted to meet your specific needs.
When it comes to specialized tools, Bloomberg offers a wide selection. Every financial tool is created to excel in its own specific area. These areas include family offices, hedge funds, private equity, and more. By focusing on each sector's unique features and contributions, Bloomberg's tools help you create strong financial plans.
Bloomberg has a collection of media services that include two leading magazines, Bloomberg Businessweek and Bloomberg Markets. It also has a radio station and a news service. These platforms offer real-time insights into the global markets. They help you stay in the loop and make timely investment decisions.
The Wall Street Journal: Stories Behind the Data
The Wall Street Journal (WSJ) is a name that stands tall when we consider reliable sources of financial information. As one of the most esteemed business journals globally, it brings a wealth of market insights to the table, marking it as a priceless resource for value investors.
Take a dive into the WSJ's 'Markets' section, and you'll find yourself surrounded by a gold mine of data on the global stock exchange. Here, investors can uncover the freshest updates on stock price movements, each backed by detailed analyses. The WSJ doesn't limit its coverage to a single region. It spans Asian, American, and Australian markets, painting a comprehensive picture of the global investment scene.
What truly distinguishes the WSJ from the crowd is its consistency in publication. It's a daily newspaper that graces your doorstep six days a week, ensuring you're always in sync with the fast-paced financial world. For investors keen on keeping a pulse on weekly trends in stock prices, the WSJ is an effective ally.
Yahoo Finance: Customized Financial Info
Yahoo! Finance is a top choice for accessible and comprehensive financial information.
Impressive features abound on Yahoo! Finance, such as real-time stock quotes, company news, extensive stock charts, and a wide array of data on mutual funds, ETFs, and even cryptocurrencies. Futures and options information further broadens the investment options available to you.
The platform serves as an excellent launchpad for beginners, offering a comprehensive overview of the financial landscape. Moreover, its price charts make it easy to grasp a stock's past and present performance, with movements displayed across various time frames.
Its Yahoo! Finance Plus Plans, available via subscription, delve deeper into the financial realm. The Essential and Lite plans offer services like research reports from industry experts, such as Morningstar and Argus, daily trading ideas, fair value analysis tools, portfolio tracking, alerts, and community insights.
While Yahoo! Finance excels at providing basic stock information, it does have limitations. For example, it might lack the in-depth analysis and specialized tools that some advanced investors seek. However, its user-friendly design, extensive features, and abundant free information make it an indispensable tool for anyone intrigued by the world of investing.
The Economist: Linking Finance and World Events
The Economist is a trusted guide for navigating the intricate web of global economics' impact on investing. With its roots tracing back to 1843, this respected publication has a long history of offering profound insights into world affairs, economics, and beyond.
Subscribing to The Economist provides you with a detailed understanding of how these events could shape your investment portfolio. The Economist dives deep into every issue, be it local or global, giving you a crystal-clear view of the larger forces driving the market.
Now, if you receive both the print and digital editions, you're in for a treat: The Economist Espresso. Handpicked by the magazine's editors, this daily briefing ensures that you kickstart your day with the most significant global news.
Every December, The Economist rolls out an annual feature, "The World in…". This special edition comes packed with predictions and insights for the upcoming year, offering valuable foresight that can steer your investment strategies. 
Investor.gov: A Trusted Source of Investment Knowledge
Investor.gov shines as a reliable and enlightening resource for gaining investment knowledge. With the backing of the U.S. Securities and Exchange Commission, its credibility is unquestionable. The platform's design focuses on delivering clear, actionable information on various investment products and related costs.
Investor.gov stands out with its array of user-friendly tools. Take the compound interest calculator, for instance. This handy tool helps you visualize how your investments could grow over time. The savings goal calculator is another gem. It aids you in charting your financial path, helping you set realistic and achievable goals.
Besides, Investor.gov takes learning a step further with its investment quizzes. These quizzes offer a fun, engaging way to test and strengthen your understanding of investment best practices. So, while learning to invest, why not make it a game? With Investor.gov, enhancing your investment knowledge becomes an enjoyable journey.
Best Value Investing Websites for Stock Research
Success in value investing leans heavily on detailed and insightful stock research. This research helps uncover hidden investment gems, understand a company's standing, and predict its growth potential. Here are some best value investing websites that offer unique tools and resources for your stock research journey.
Seeking Alpha: A Mix of Investment Views
Seeking Alpha stands out among the multitude of stock research websites. It's well-known for high-quality content and comprehensive market analysis. As a key player in the financial information world, Seeking Alpha offers a wide range of stock analysis articles.
What sets Seeking Alpha apart is the depth of its content. The platform's articles dive deep into the details of a company, offering plenty of data and fundamental facts to guide your investment choices. Every article undergoes a strict review process, making sure only top-tier content reaches its readers.
The platform also shines a light on ETFs and offers a broad sweep of market news. This helps investors stay on top of broader market trends and movements. For those seeking new investment opportunities, their trending stock ideas could be just the inspiration you need.
The Motley Fool: A Beacon for Investors
The Motley Fool is a name that can't be overlooked when discussing online investment platforms. It's renowned worldwide, attracting a vast user base with its popular, high-performing stock recommendation service. One of the Motley Fool's most impressive claims is its consistent outperformance of the S&P 500, a feat that has certainly boosted its popularity among investors.
One key strength of the Motley Fool is its broad stock lists. These cover a wide range of sectors and investment themes, acting as a treasure map for you in your hunt for promising investment opportunities. While some might view their stock picks as overly hyped, the sheer volume of investors relying on their services hints at an effectiveness that is hard to deny.
Motley Fool also shines as an educational beacon in the world of investing. The platform offers extensive resources to unravel the mysteries of the stock market and retirement planning. Praised for their depth and user-friendliness, these resources make Motley Fool a go-to spot for beginners eager to decode the intricate world of investing.
Finsheet: Empowering DIY Investors
For those investors who enjoy doing research by themselves, Finsheet is a tool they can't miss. This platform distinguishes itself by offering financial data of institutional quality, all tailored for retail investors and priced affordably.
Finsheet's data span various asset types such as stocks, ETFs, bonds, cryptocurrencies, mutual funds, options, and even unique alternative data.
Another Finsheet's standout feature is its easy-to-use interface. It's crafted to work smoothly with Excel and Google Sheets, allowing you to access and manipulate data for your analyses easily. This seamless integration particularly appeals to those already familiar with these widely-used spreadsheet tools.
Additionally, Finsheet also offers an extensive documentation section. Each function is clearly explained, complete with examples and a full list of parameters. This guidance lets you easily try out different functions, simply by copying and pasting into Excel or Google Sheets.
And, for those moments when a little extra support is needed, Finsheet has a dedicated Google Group. Here, you can ask technical questions about the platform. The turnaround time for responses is typically just a few hours, providing you an additional layer of help.
AlphaResearch: Revolutionizing Research with AI
AlphaResearch operates on the principle that company filings, such as 10Ks and 10Qs, hold the keys to outperforming the market. To unlock this potential, they employ AI and machine learning, resulting in a powerful search engine. With this engine, users can efficiently comb through all filings of all listed companies.
Although AlphaResearch wasn't the first to introduce this functionality – platforms like AlphaSense and Sentieo paved the way – it stands out due to its accessibility. The mentioned platforms mainly cater to large business customers, reflected in their pricing. In contrast, AlphaResearch strives to provide in-depth, high-quality, affordable research for individual retail customers.
This commitment to accessibility makes AlphaResearch an ideal choice for those embarking on their investment journey. The platform equips you with the tools needed to delve deep into companies of interest, offering insights into their financial performance.
AlphaResearch champions the belief that thorough research is irreplaceable when investing. By streamlining the research process and boosting efficiency, they empower investors to make informed decisions grounded in solid information.
Stock Rover: A Broad Stock Analysis Toolkit
If you're an investor on the lookout for a tool that combines portfolio management, market analysis, and stock screening, Stock Rover is a fantastic option.
Stock Rover offers a unique stock-rating system. This system clearly assesses a company's potential based on multiple factors and strategies. It's a tool that could become indispensable in your investment arsenal.
Stock Rover also shines with its stock screening capabilities. If you're a value investor on the hunt for undervalued stocks, or a growth investor seeking high-potential companies, Stock Rover has you covered. The platform offers pre-built screens that cater to different investment styles, simplifying the process of finding promising investment opportunities for you.
Stock Rover proves to be a game-changer for long-term investors, especially those who focus on value and dividends. It gives you all the information you need to make informed investment decisions. While it might not be the perfect tool for traders who focus on technical analysis, its comprehensive approach to stock research and analysis makes it an invaluable asset for anyone interested in long-term, value-oriented investing strategies.
One Last Thing: Safeguard Your Capital
If we boil down the essence of successful investing, it all comes down to one golden rule: protect your capital. Master this, and you've unlocked the secret to growing your wealth over time, thanks to the magic of compounding.
In value investing, knowledge is more than just power—it's your fuel.
We have explored many best value investing websites in this guide. Each one is full of useful information. Whether you're taking your first steps in the investment world or a veteran player, these online resources are like having a secret weapon in your value-investing arsenal.
But keep this in mind: these resources are just your launch pad. The real art of investing is not just about gathering information. It's about refining your skills to interpret, analyze, and apply this information to your unique investment game plan. Happy Investing!