In cryptocurrency trading, automation has become a key tool for investors looking to gain an edge. Enter TradeSanta, a platform that streamlines the trading process through its cutting-edge bot technology. But with so many options on the market, is TradeSanta truly worth your investment? This TradeSanta review will delve deep into the platform's usability, the types of bots supported, pricing, and the mobile app. Determine whether or not it is a viable solution for those looking to automate their trading strategy.
Easy to set up a bot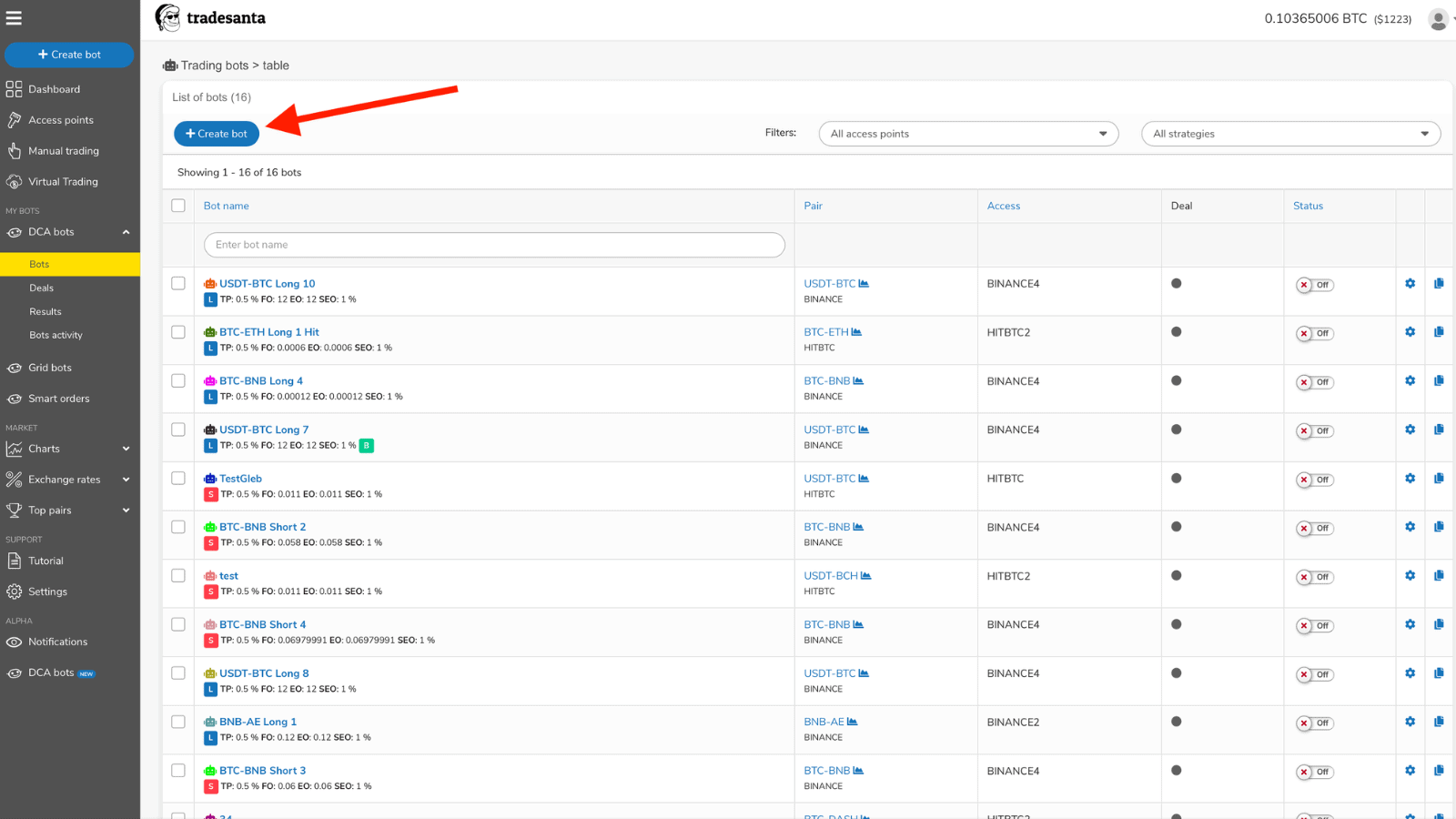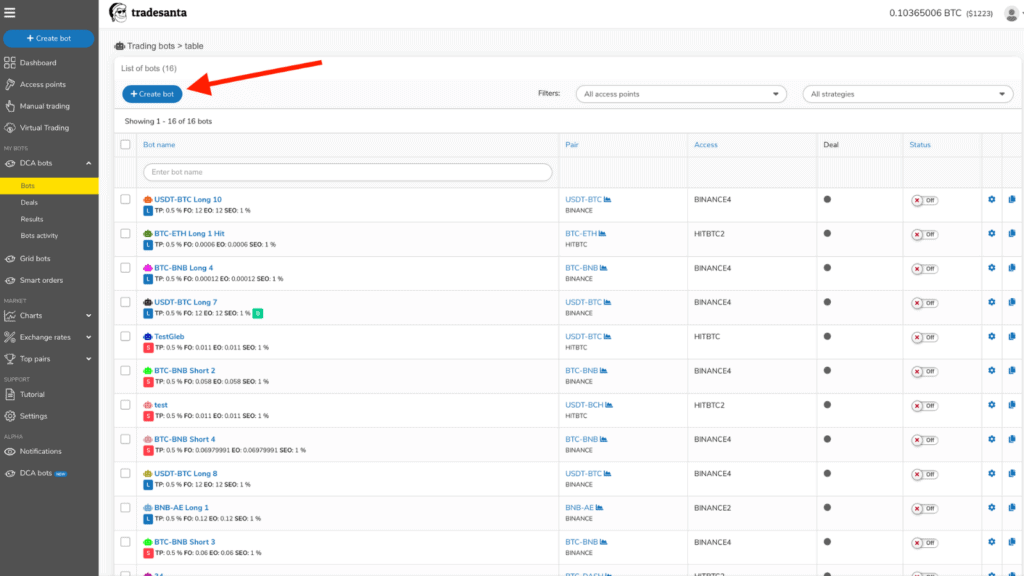 TradeSanta makes it incredibly simple to set up a trading bot and begin executing trades. Upon logging in, users can easily create a new bot by clicking the "+Create bot" button located on the top left of the menu. TradeSanta offers users options to choose a strategy, pair, and customize bot settings to their liking. Alternatively, users can navigate the "My bots" section and select the desired trading strategy (such as DCA, Grid, or Smart Order). Then, click the "+Create bot" button, and a trading bot will birth.
However, to use this feature, the user must first connect the platform to their preferred exchange, which is a straightforward process. With the established connection, users can easily create their first trading bot and start reaping the benefits of automation.
User-friendly platform
TradeSanta's platform is user-friendly and easy to navigate. It is simple for users to keep track of their trading activity and performance. The platform's dashboard serves as the one-stop shop for all crucial information. There are active bots currently, trading results, balance dynamics, and the latest news.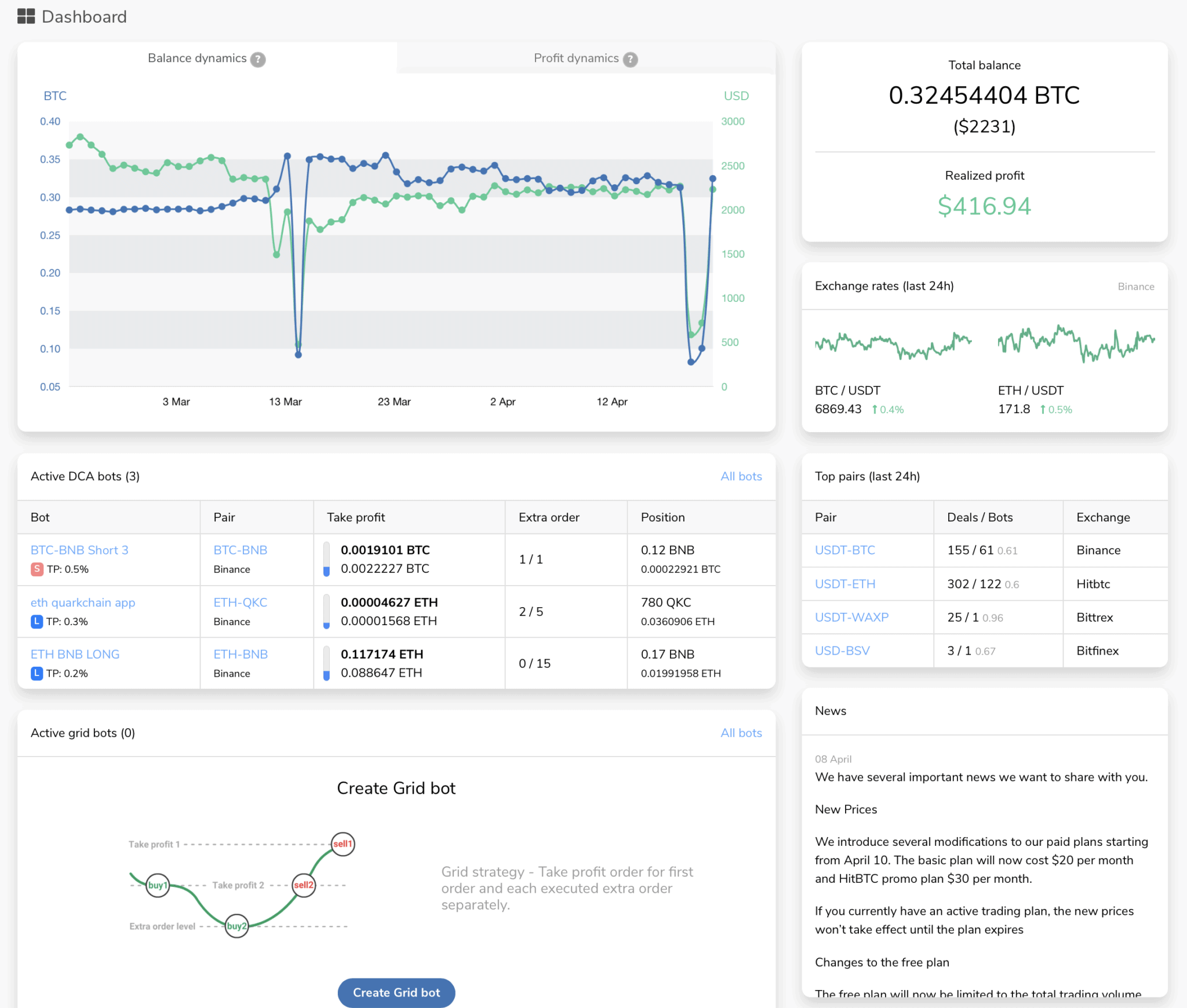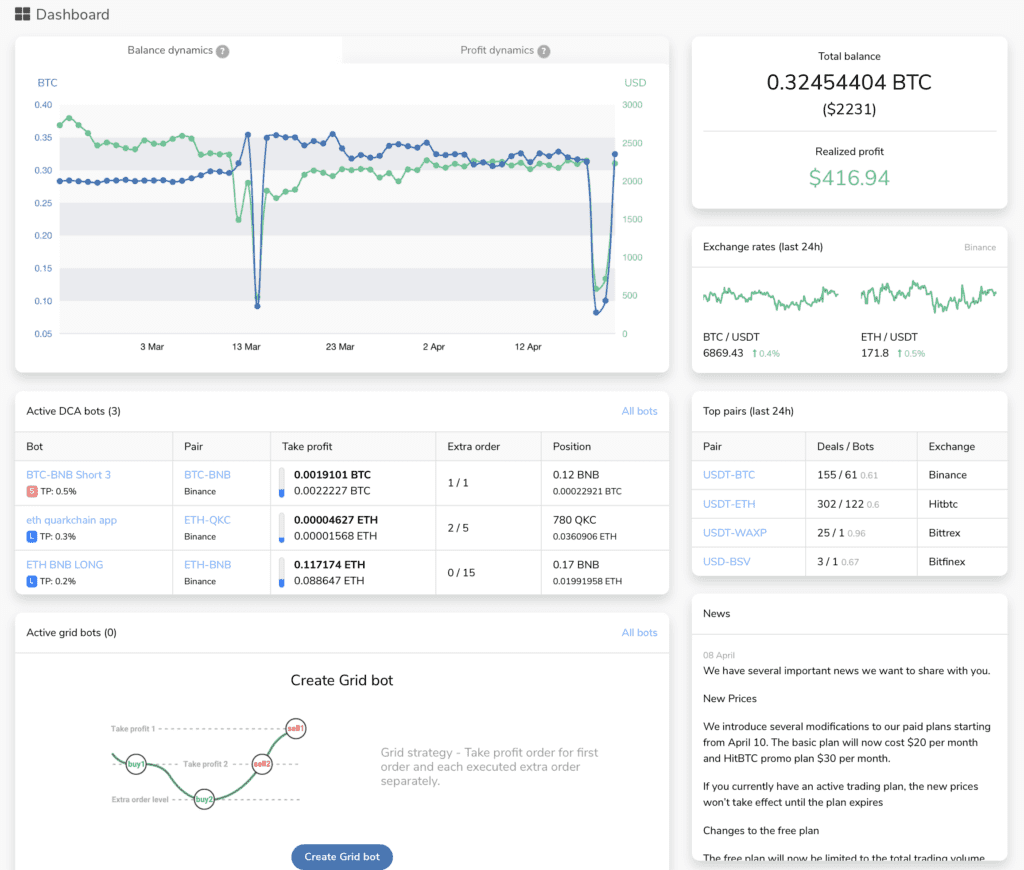 The Balance Dynamics and Profit Dynamics blocks provide users with an effortless way to visualize their balance value in USD and BTC for the past 30 days. Here also presents the profit TradeSanta bots generated over the same period.
With the List of Active Bots section, users can easily view and manage their active bots, including DCA and grid bots. All critical information, such as the bot's name, trading pair, unrealized profit, and position, is all in one place.
TradeSanta's platform also provides a comprehensive overview of trading activity and performance. There are features such as total balance, realized profit, exchange rates, and top pairs, all easily accessible. The platform also has a news section. Users can stay up-to-date with the latest announcements and updates.
Compared to other mainstream trading bot platforms, TradeSanta provides relatively fewer choices of bots. Only the Grid Bot, DCA Bot, and Smart Order are available.
Grid Bot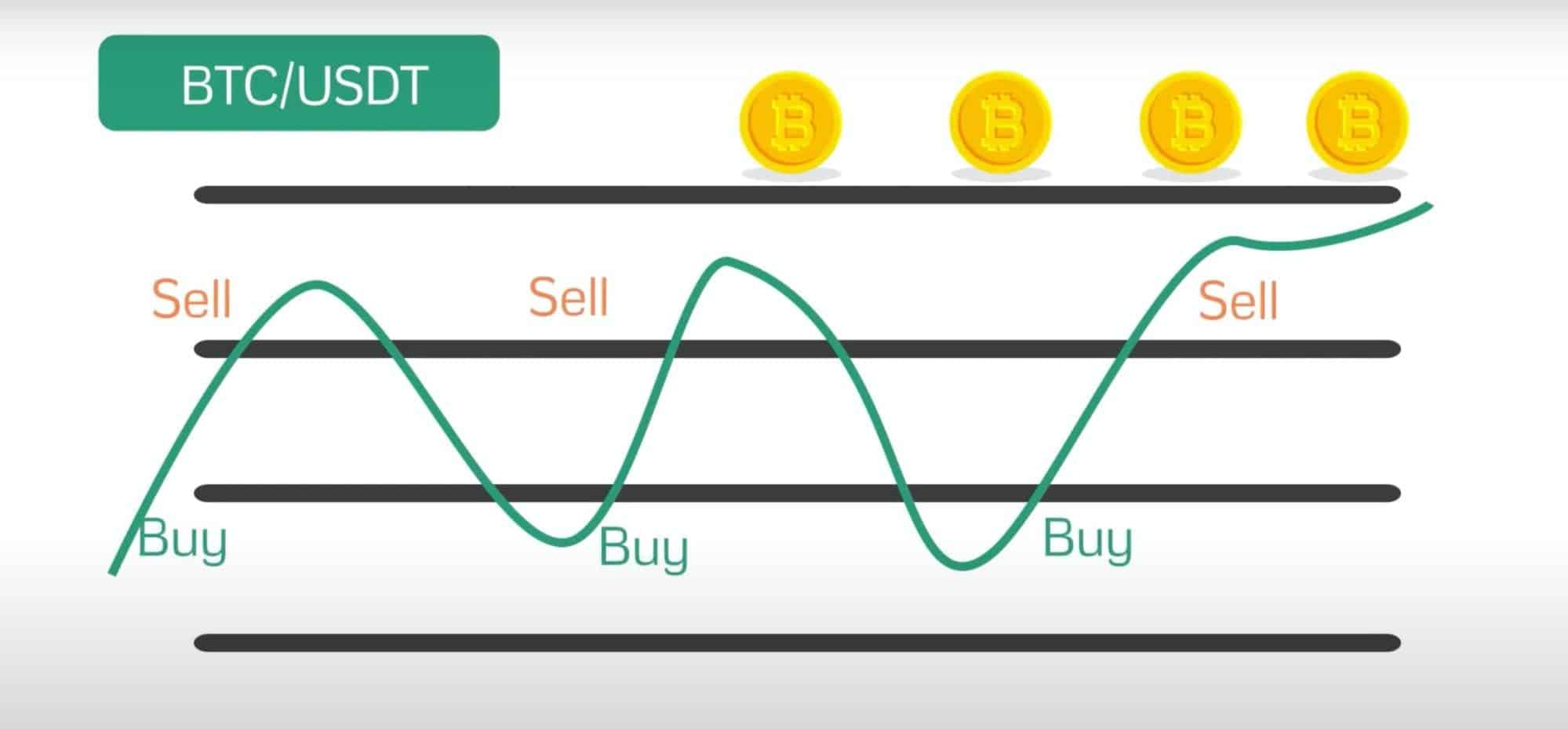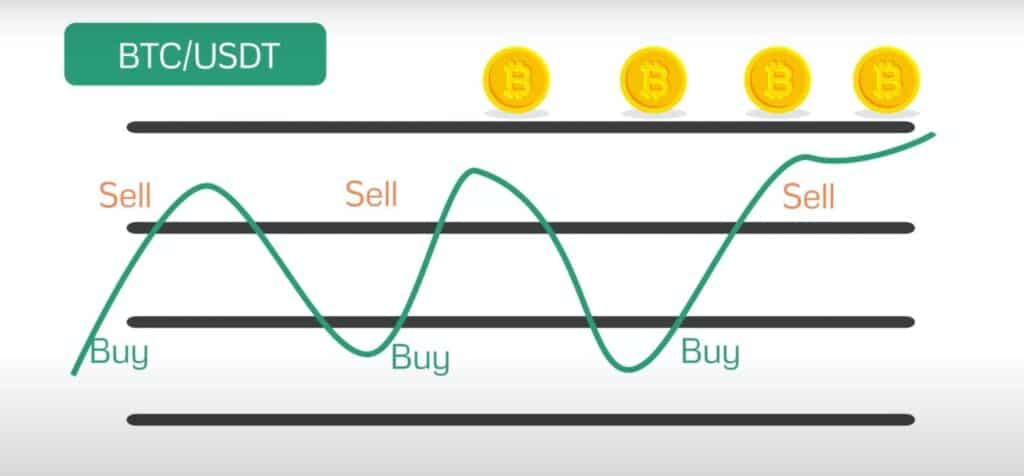 The Grid Bot aid traders in profiting from price fluctuations by placing buy and sell orders at specific price levels, forming a grid-like structure. Thus, you can take advantage of potential price movements in either direction. This strategy is particularly useful in volatile markets.
DCA Bot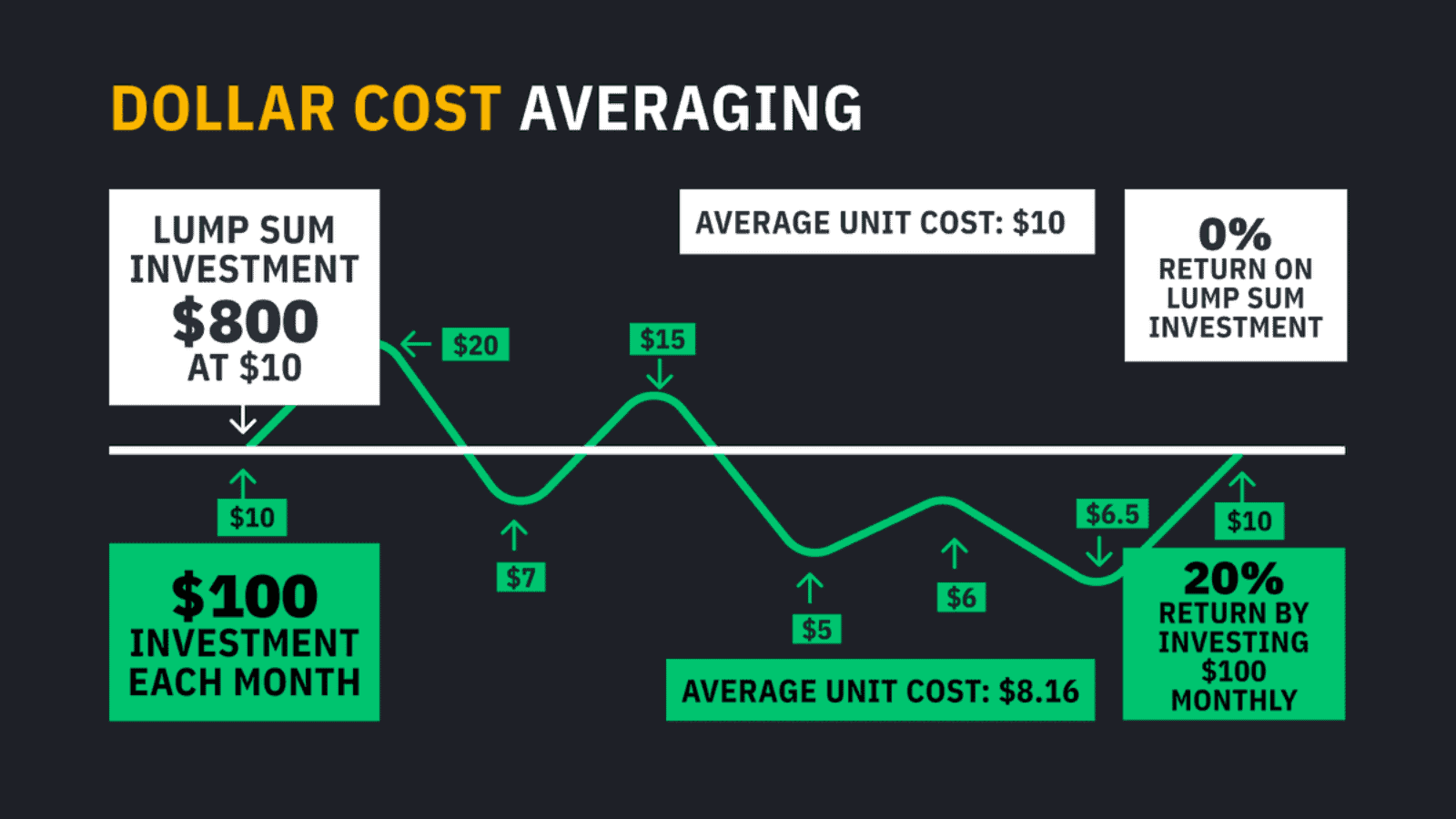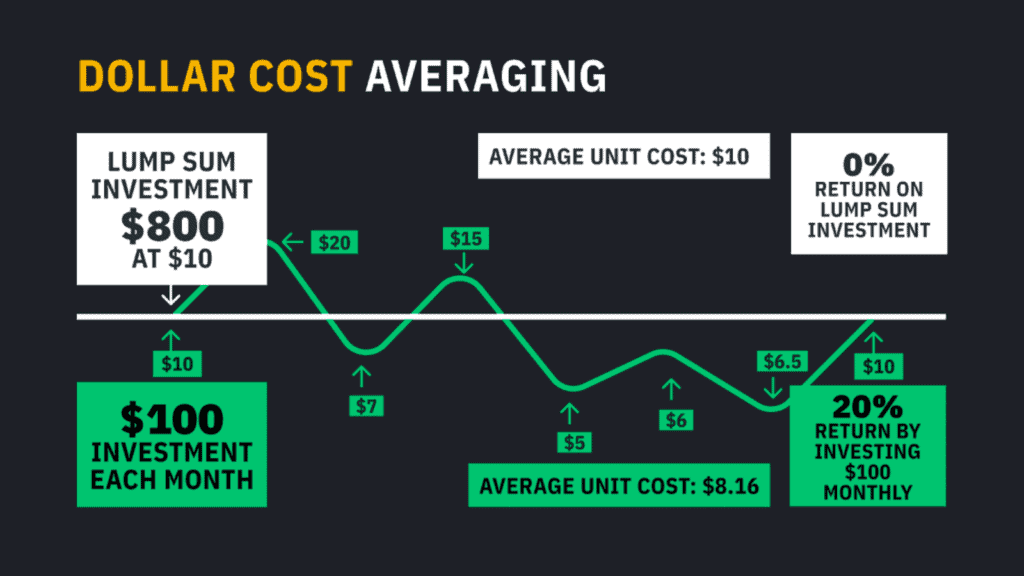 The DCA Bot helps in averaging in and out of positions. The goal is to reduce the average cost of acquiring a position. It enables traders to schedule regular, incremental buys at a specific time interval.
In a bear market, the price of common cryptocurrencies will decrease over time. In this situation, the average cost of your positions will decrease by using a DCA bot. Thus, a DCA bot is beneficial in a bearish market.
Smart Order
It is hard to say that Smart Order is a trading bot. More accurately, you should see it as an optimization strategy. Smart Order is not designed to pick buy or sell points like the above two bots but rather execute orders better. With it, you can sell a specified quantity of cryptocurrency, split over predefined periods. You just need to determine the amount you want to sell. After that, the Smart Order bot will take over.
The bot will place and maintain orders in the exchange's order book. The optimization algorithm will minimize the impact on the market and potentially maximize the return. Smart Order is a must-have if you have large crypto transactions to manage.
If we don't talk about price, then any TradeSanta review is meaningless. After all, you get what you pay for. Fortunately, TradeSanta has a flexible pricing structure and reasonable prices. You can select a subscription package that fits your needs. The platform offers three different price plans, each with varying levels of access to the platform's features.
Besides, TradeSanta offers a new free plan, a nice advantage compared to its competitors. The free plan includes one bot and access to the trading terminal. You can try it out first, see how it works, and then decide.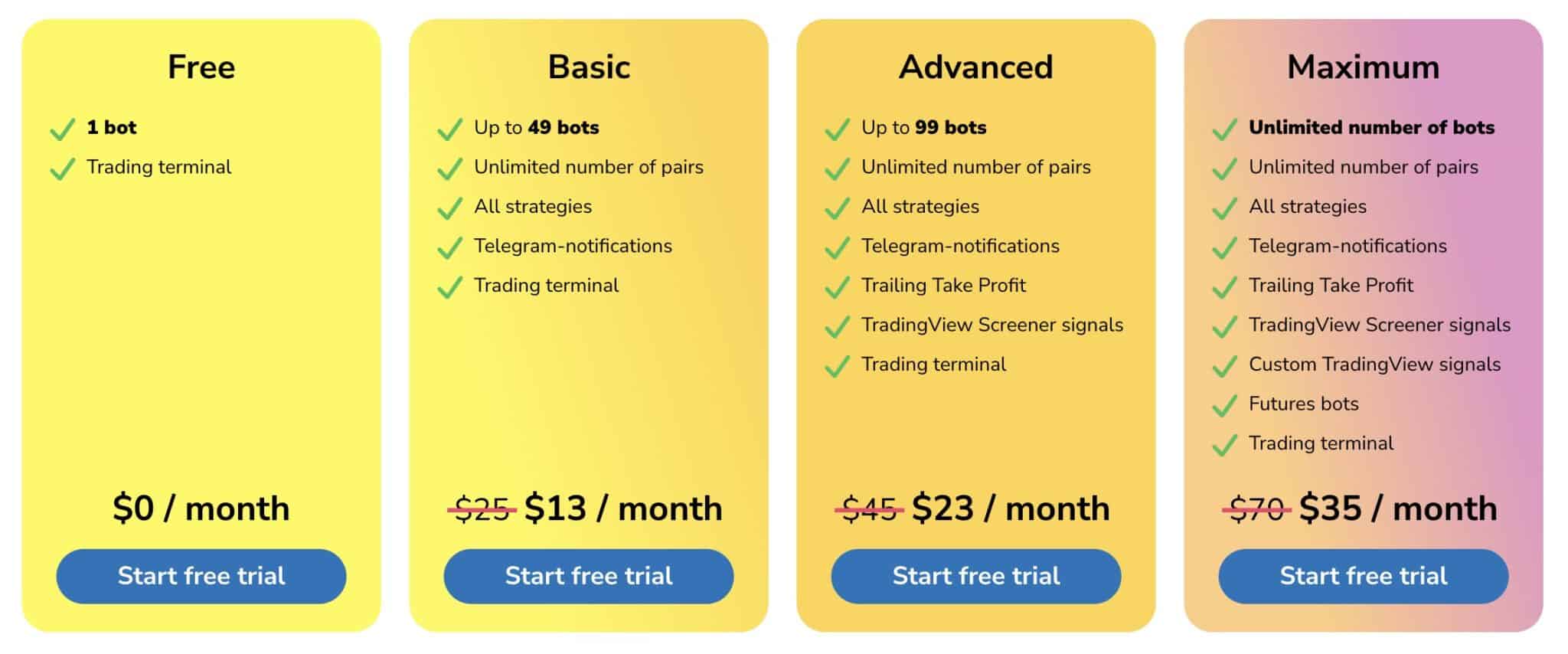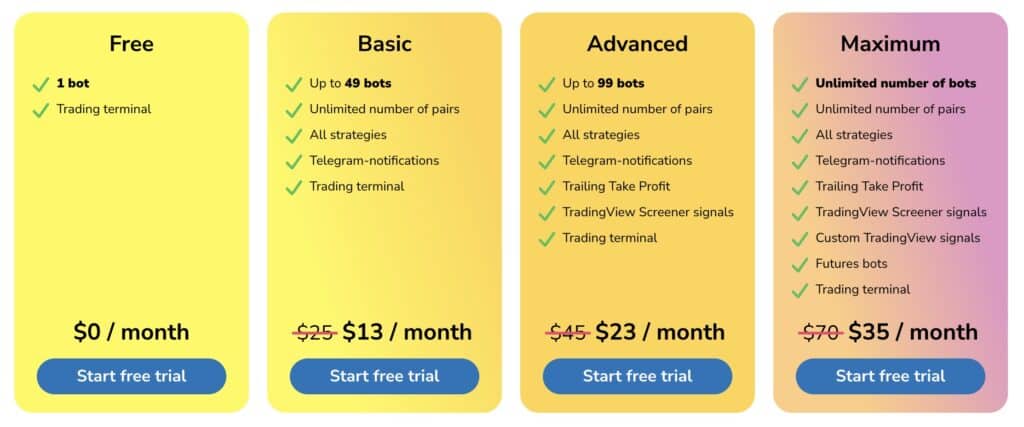 The Basic Package costs $13 per month: It offers access to 49 bots, an unlimited number of trading pairs, all strategies, and Telegram notifications. This package is ideal for most investors and traders just starting or wanting to test the platform before committing to a more expensive plan.
The Advanced Package, costing $23 per month, is designed for more experienced traders. It includes all the features of the Basic Package but also offers access to 99 bots and additional benefits such as TradingView signal integration and a trailing take profit feature.
The Maximum Package, which costs $35 per month, is the perfect choice for serious traders. It includes all the features of the Basic and Advanced Package, as well as additional features such as custom TradingView signals and an unlimited number of bots and trading pairs.
TradeSanta also offers a free 3-day trial that allows you to explore the platform and try out the features before committing to a paid plan. Just get a feel for the platform and decide which plan is right for you.
TradeSanta mobile app review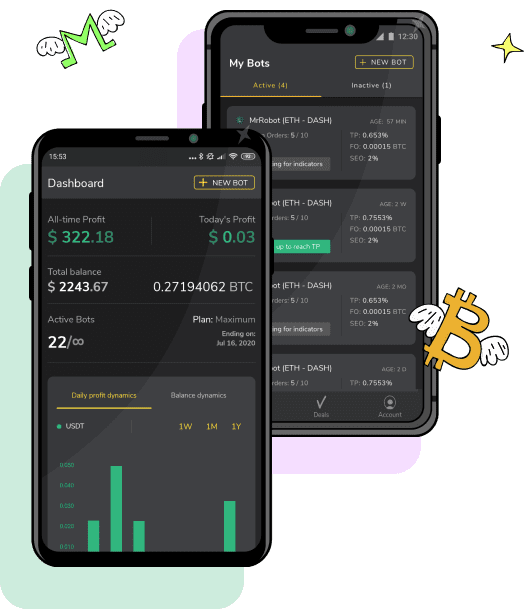 The TradeSanta mobile app offers traders the convenience and flexibility to manage their crypto trading bots on the go. With the crypto market constantly fluctuating, the mobile app allows you to easily track your portfolio, whether you're out and about or away from your computer.
Suppose you already have an account on the web version of TradeSanta. You can easily log in to the mobile app and access all your account details.
The mobile app has all the same tools and features as the desktop version. You can switch between them easily since these two versions work seamlessly. Charts and indicators are also available in the mobile app too. You can use them to evaluate the bot's performance and make adjustments if needed.
Compared to its competitors, I believe that TradeSanta's mobile app is quite good in terms of functionality and user-friendliness.
Final words
In this TradeSanta review, we have focused on four key aspects of the platform – usability, the types of bots supported, pricing, and the mobile app. These are the most important factors to consider when evaluating a trading bot platform.
In summary, TradeSanta is a solid choice for a cryptocurrency trading bot platform. It offers all the necessary features. Besides, it has unique advantages, such as a free plan for users to try before committing. The mobile app is also well-designed and user-friendly.
One downside is that the platform only supports a limited number of bot types, specifically Grid Bot and DCA Bot. However, these two types of bots will be sufficient for those new to this field since they are most commonly used. TradeSanta is secure, and there is no problem in this regard. If you're interested, you can try it by clicking here. After all, it has a free plan. Hope this TradeSanta review helps you! Happy Trading!