The past year, 2022, was a nightmare for the stock market. The U.S. stock market fell almost from the beginning to the end of the year. For Tesla Inc. (TSLA), 2022 was the worst year for its stock since going public. This article will thoroughly analyze the reasons for Tesla's recent stock decline and whether Tesla is a good stock to buy in 2023.
In the last quarter, Tesla's stock price accelerated its decline, falling 53.6% in Q4 of 2022. It has significantly lagged behind major indexes in the U.S. stock market. By correlating the turning points in Tesla's stock price since the beginning of the year with corresponding significant events, we can analyze some clues to Tesla's stock price changes with the underlying motivations and influencing variables behind them.
Timeline of Musk's acquisition of Twitter and its impact on Tesla's stock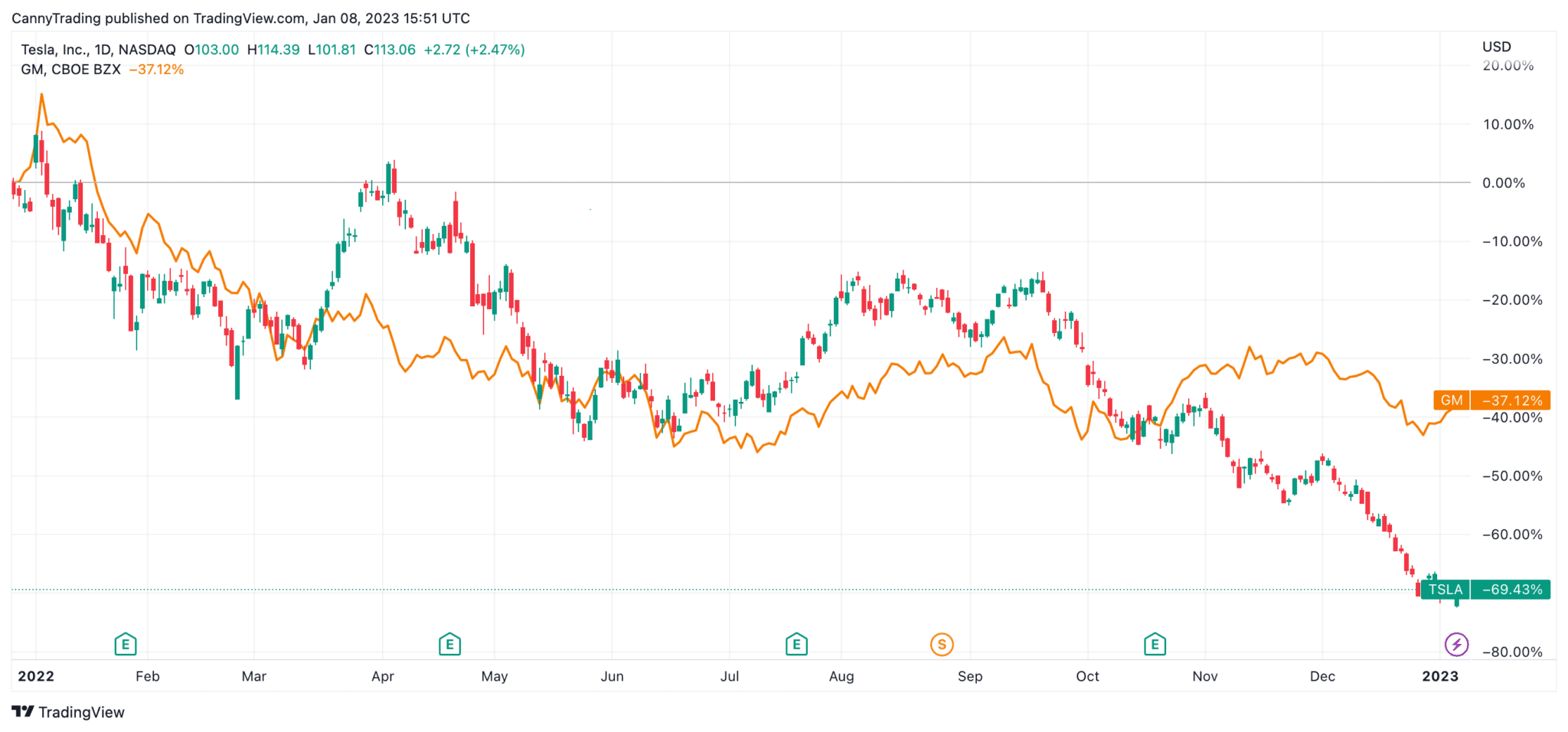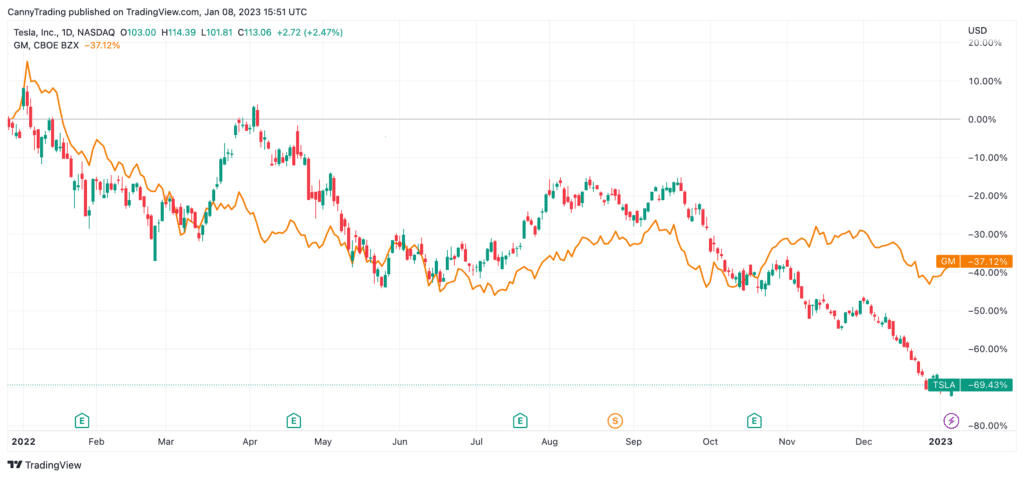 If you are careful, you will find that before October of the past year, Tesla's stock price trended similarly to other major car manufacturers, such as General Motors. Then they diverged significantly after October. It is clear that, in addition to market concerns about short-term global electric vehicle sales, Tesla CEO Musk's personal involvement in the Twitter acquisition and the negative impact it had on his sales of Tesla stock was another important reason for the recent plummet.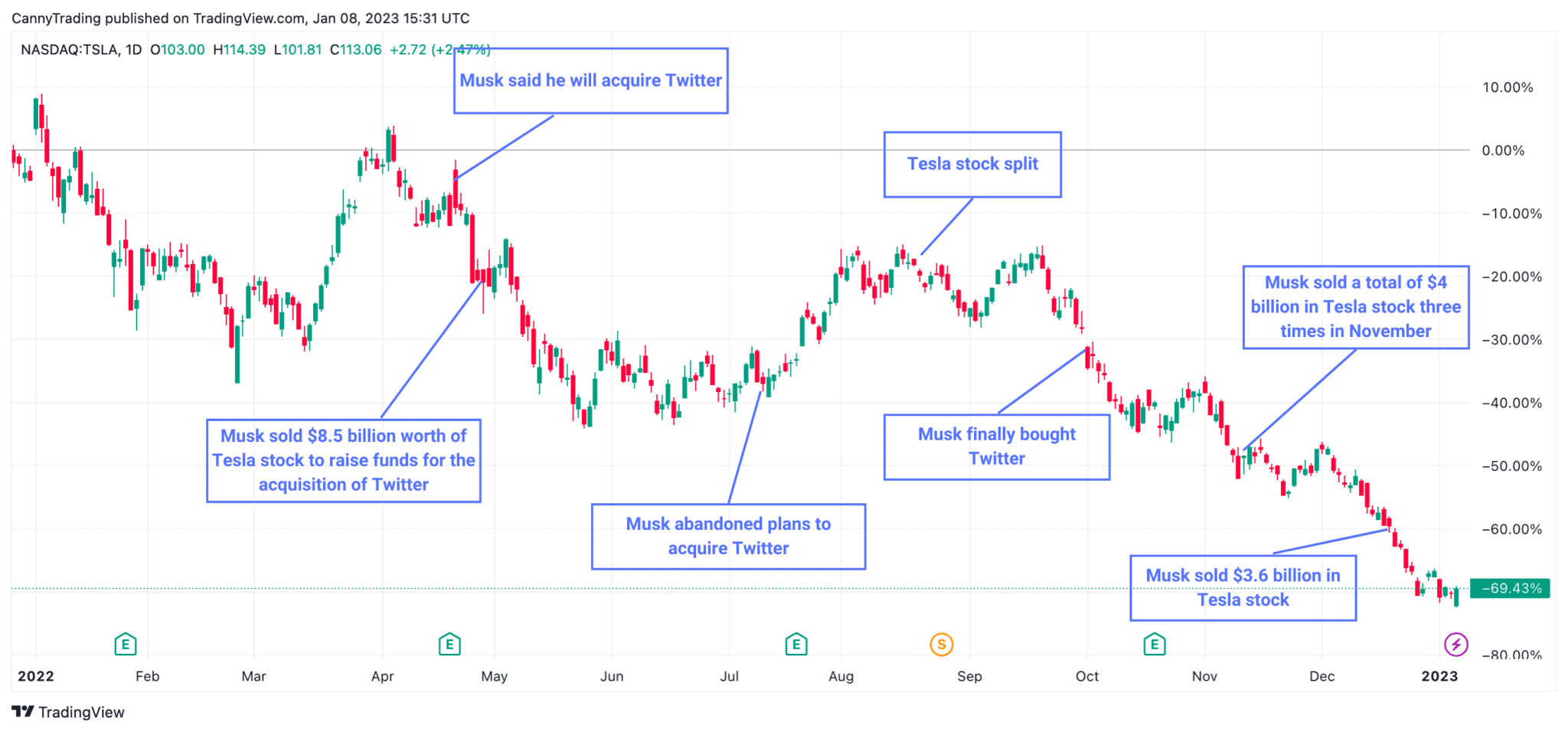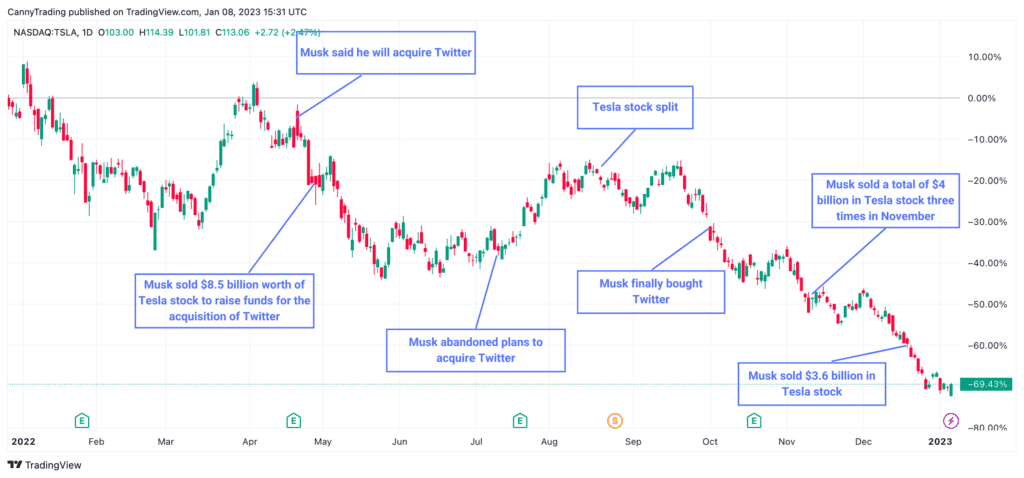 In April 2022, Musk announced that he would acquire Twitter.
In May 2022, Musk sold $9.5 billion worth of stock to fund the acquisition of Twitter.
In July 2022, Musk announced that he would abandon the acquisition of Twitter.
In October 2022, Musk finally completed the acquisition of Twitter.
In November and December 2022, Musk cumulatively sold $7.6 billion worth of Tesla stock.
Analysis of the impact of the Twitter acquisition
In this acquisition, Musk mainly used Tesla as a "cash machine" to finance the acquisition. His radical management actions and the excessive personal energy invested in Twitter after taking over also had a significant impact on Tesla's stock performance, as follows:
Tesla stock reduction
According to information that Tesla submitted to the SEC, Musk reduced his Tesla stocks by about 3% during the year. His personal stake in Tesla fell from 22.4% at the beginning of the year to the latest 19.4%. Continuous reduction, coupled with this year's weak market environment, pressured Tesla's stock price downward.
In addition, Musk pledged a high proportion of his Tesla stocks. According to Tesla's 2021 annual report, assuming that the number of Musk's pledged stocks remained unchanged during this period, we can see that the proportion of pledged stocks in Musk's current 19.4% stake in Tesla is about 46%. In recent weeks, the continuous decline in stock price required Musk to continuously sell stock to meet the Margin call, resulting in a vicious cycle. That can explain why Musk's two stock sales in November and December were at low stock price points.
Tesla's brand image and Musk's energy consumption
After Musk took over Twitter, he spent excessive personal energy on it and took many radical management actions. He was also active in politics. Both of them have harmed Tesla's brand image. These have also reduced Musk's time and energy to focus on Tesla's development and operations, indirectly impacting Tesla's stock price.
Other potential influences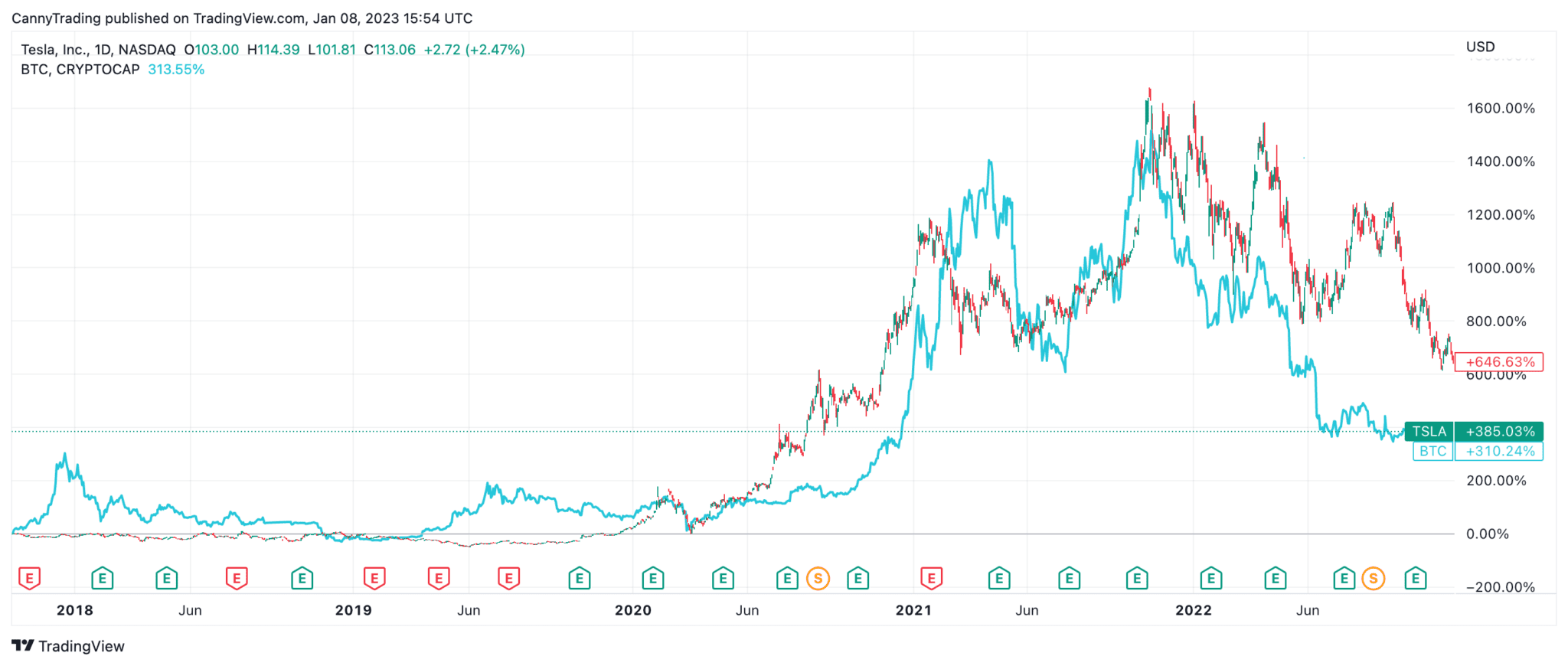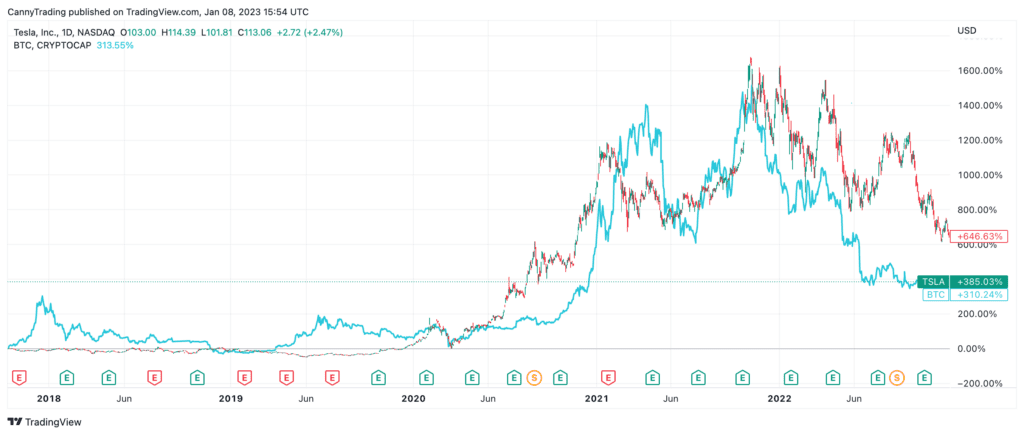 Tesla is currently the most active stock in the U.S. stock market. Musk's "Iron Man" image has also attracted a large number of loyal fans and retail investors. As a result, Tesla's stock has more financial attributes than other listed tech giants in the U.S. stock market. The most intuitive evidence is that in the past few years, the price trend of Tesla and Bitcoin has a clear correlation. Therefore, Tesla's stock price volatility is significantly higher than the overall market and other tech giants.
In the face of the current weak market environment and the limited upward catalyst for Tesla's stock price in the short term, shorting Tesla has become the most popular trading strategy in the short term. The pressure may cause the short-term adjustment to significantly deviate from the reasonable value corresponding to the company's fundamentals.
Analysis of Tesla's performance
In the short term, technical factors such as trading pressure may lead to Tesla's stock price continuing to decline. However, for long-term value investors, it's essential to determine if Tesla is a good stock to buy at the current price. To do this, we need to look more at the fundamental aspects of the company. Then we can consider whether Tesla's performance can support its current market value of $470 billion, based on the most conservative assumptions.
Short-term market concerns
Global demand uncertainty is rising, but high gross margins will be critical support for Tesla's market share. As the economic environment becomes more complex, investor sentiment towards Tesla is shifting towards focusing on short-term data, such as quarterly sales. These market concerns are reasonable and cannot be disproven in the short term.
Many factors will improve Tesla's gross margin, including:
Tesla has increased production capacity at the higher-efficiency Texas and Berlin factories (both of which currently have a weekly capacity of 3,000 units).
Disruptions to the Shanghai factory due to the pandemic have been eliminated.
Under the current environment, the global supply and demand for electric vehicles will significantly worsen this year. A higher gross margin will be Tesla's most powerful weapon for gaining market share in such conditions.
Short-term and mid-term sales outlook
According to Marklines and Tesla sales data, in the past five years, Tesla's global market share in the new energy vehicle sector has been stable at 13% to 18%. As the largest electric vehicle giant, we expect Tesla to maintain a market share of more than 12% in the global new energy vehicle sector, corresponding to 3 million sales in 2025. Assuming that each car realizes a sales profit of $8,000 to $10,000, Tesla can achieve a profit of $24 billion to $30 billion.
Also, Tesla can benefit from the potential contribution of AI (autonomous driving, robots), energy storage & photovoltaic and other businesses. They are enough to support Tesla's current valuation of less than $500 billion.
Other short-term potential supportive factors
As Tesla's stock price reaches a two-year low, the market's outlook on the company is pessimistic. However, looking at the bigger picture, many factors can influence investors' negative views, including potential changes in industry policy, Tesla's business and operations progress, and even CEO Elon Musk's attitude.
Adjustments to Twitter's business strategy
Elon Musk recently asked users if he should resign as CEO of Twitter. Regardless of the outcome of this event, it demonstrates that Musk is paying attention to market opinions and is willing to make necessary changes. If Musk reduces his involvement with Twitter, the market will see it as an improvement. These are also the most likely and easiest changes for Musk to make in the short term.
Industrial policy adjustments in the U.S. and Europe
Regarding industrial policy adjustments in the U.S. and Europe, the U.S. anti-inflation act took effect on January 1st. Tesla benefits significantly from consumer tax cuts (up to $7,500) and battery cost subsidies ($35/KWH for cells and $10/KWH for battery packs). Combining this with the current low penetration rate (less than 10%) of new energy vehicles in the U.S., the American market can be the primary source of Tesla's vehicle sales growth in 2023.
At the same time, with the increasing production capacity of the Berlin factory, eliminating tariffs (about 10% of the vehicle price) on local supply in Europe will also significantly drive sales in the European market.
New model releases and updates to existing models
Tesla has delivered its semi-truck according to its announcements. Also, the Cybertruck will begin production by the end of this year, with over 1.6 million orders already accumulated. Additionally, Reuters has reported that Tesla has been working on a mid-cycle refresh of the Model 3, known as "Project Highland," for the past six months. As a mature model on the market for several years, this mid-cycle refresh is a positive factor.
Positive shareholder return plan
As of Q3 2022, Tesla has a cash and cash equivalent of $19.53 billion and almost no debt. It achieved $3.3 billion in free cash flow in Q3 2022. If the Tesla board responds positively to shareholder returns through stock buybacks and dividends, investor perceptions of the company will significantly improve.
Progress in AI
In terms of progress in AI (autonomous driving and robotics), Tesla has rolled out its FSD Beta V11 version to paid North American users since November. If it performs as expected, it is likely to increase the paid rate of FSD in the North American and European markets, bringing positive financial contributions.
Is Tesla a good stock to buy in 2023 conclusion
Tesla's stock price has been falling rapidly over the past quarter, underperforming compared to the overall market and comparable car manufacturers in Europe and the U.S.. There are many reasons, including:
Concerns about global demand for electric vehicles are the main reason.
The potential negative impacts of CEO Elon Musk's Twitter acquisition, including using the sale of Tesla stock for financing, damaged the company's brand image.
The financial nature of Tesla's stock, its high shorting ratio, and the estimated almost 50% pledged ratio of Musk's personal holdings of Tesla stock have contributed to downward pressure in the short term.
As the expansion of the company's Shanghai factory is completed and production capacity in Texas and Berlin continues to increase, the main bottleneck for the company is gradually shifting from the supply side to the demand side. Based on an analysis of short and medium-term demand in markets such as the U.S., Europe, and China, as well as the competitiveness of Tesla's products, the company's current valuation has solid support at the bottom. The current nearly 30% gross margin for vehicle sales and the potential for further improvement in gross margin due to global capacity optimization will be the most powerful weapon for Tesla to tackle short-term market challenges and capture market share.
With the long-term investment value in Tesla, investors should actively pay attention to the current substantial correction in Tesla's stock price for opportunities. Still, Tesla is a good stock to buy at the current price. Potential events such as adjustments to Musk's Twitter management strategy, the launch of new models and revisions to mature models, active progress in AI (autonomous driving, robotics), and new shareholder return plans (repurchases, dividends) may bring about significant improvement in short-term market sentiment.